MA Levels of Maternal Care Initiative
​
PNQIN and MPQC invite and encourage birthing hospitals in Massachusetts to participate in a new statewide initiative to reduce severe maternal morbidity and mortality and eliminate inequities. This initiative works by ensuring that expectant parents are cared for at hospitals with the resources and personnel to manage their unique needs.
​
​
​
"Moms are not just vessels for babies;
they need their own safety levels."
- Dr. Ronald Iverson, MPQC Co-Chair
​
​
​
The American College of Obstetricians and Gynecologists (ACOG) and the Society for Maternal-Fetal Medicine (SMFM), along with the Centers for Disease Control and Prevention (CDC), are promoting an improved method for regionalization of care based on maternal condition; this is called Levels of Maternal Care. It is similar to the Neonatal Levels of Care model but focuses instead on the pregnant person. PNQIN is engaged in this initiative to explore how Levels of Maternal Care effort could benefit the Commonwealth.
​
UPDATE 5/10:
Congratulations and thank you to the hospitals who have completed LOCATe so far!
​
​
​
​
​
​
​
​
​
Click through the tabs below to learn more about Levels of Maternal Care!
​
If you have additional questions, concerns, or feedback about the Massachusetts Levels of Maternal Care Initiative or the CDC LOCATe® Tool, please contact Dr. Sarah Rae Easter (seaster@pnqinma.org) or Kali Vitek (PNQINAdmin@pnqinma.org).
​
​
​
​
​
​
​
​
​
​
​
Frequently asked questions
What is the Levels of Maternal Care Initiative (LoMC)?
---
ACOG and SMFM outlined the Levels of Maternal Care in 2015 as an important strategy to decrease severe maternal morbidity and mortality and eliminate disparities in poor maternal health outcomes. The Levels of Maternal Care concept relies on developing collaborative relationships between hospitals of differing levels of maternal care within a region. This integration of relationships enhances the ability of pregnant people to optimize their birth experience and access resources to care for specific maternal conditions, and refer pregnant people with high-risk comorbidities to hospitals equipped with the resources and personnel to manage their unique needs. The ACOG/SMFM guidelines provide a framework for the resources available at a given level of care and examples of patient comorbidities. These national recommendations left the designation of hospital levels of care and implementation of the paradigm in the hands of the state. PNQIN is leading this initiative in Massachusetts to underscore the importance of the collaborative nature of this statewide effort and to help implement processes in hospitals that will identify areas for potential program augmentation. Risk-appropriate care is not synonymous with transferring patients to tertiary care centers; rather, it ensures that pregnant people have equal access to services to optimize their birth experiences and meet their care needs. With this goal in mind, a better understanding of the resources available in our state is a requisite first step in this process.
---
What is the CDC Levels of Maternal Care Assessment Tool (LOCATe®)?
---
To take that first step in assessing the resources available in our state, PNQIN and The Betsy Lehman Center for Patient Safety are collaborating with the Massachusetts Department of Public Health and the Centers for Disease Control and Prevention to implement the CDC Levels of Care Assessment Tool (LOCATe®) in Massachusetts. LOCATe® queries hospitals about their available services to provide a preliminary suggestion of a birthing hospital's level of maternal care. There are five defined levels of maternal care:
Accredited birth center
Basic care (Level I)
Specialty care (Level II)
Subspecialty care (Level III)
Regional perinatal health care center (Level IV)
Each level reflects a hospitals capabilities, physical facilities, and medical and support staffing. Higher levels of care include and build on the capabilities of the lower levels. This survey was developed by the CDC and has been implemented by 23 other states (including Maine, New Hampshire, and Vermont). Massachusetts added a set of additional questions to the LOCATe® tool to ensure that the results capture information on disparities in care and opportunities to increase health equity. We ask each hospital in our state to complete the LOCATe® survey to better understand the systems of care serving pregnant people, parents, and infants—including how those services respond to the unique needs of a diverse population. For specific questions about the LOCATe® tool, feel free to contact Natalia Ciesielska at the Betsy Lehman Center (natalia.ciesielska@state.ma.us).
---
What does participation in LOCATe® look like?
---
We aim for 100% participation from Massachusetts birthing hospitals in order to provide the most informative assessment of maternal care capacity in our state. By taking the time to complete the LOCATe® survey, you will help Massachusetts join the national effort to improve the quality of maternal care for expectant parents, infants, and families. The LOCATe® survey link will be distributed via email (from the PNQINAdmin@pnqinma.org) on February 16th, 2021. Responses will be collected using the online secure platform REDcap and housed at the Betsy Lehman Center for Patient Safety, a non-regulatory state agency that already houses data for many of PNQIN's existing projects. The Betsy Lehman Center will securely house the data for Massachusetts and the CDC will conduct the analyses and share results with PNQIN and the Betsy Lehman Center. The survey will be open for 6 weeks; we ask you to complete your hospital's submission no later than March 31st, 2021. We anticipate that some answers to the LOCATe® questions will be readily available to you, whereas others may be within the expertise of other colleagues. Therefore, we ask you to complete the survey as a physician and nurse dyad based on the CDC's recommendation and in order to enhance accuracy.
---
How will LOCATe® responses be used?
---
LOCATe® data is collected using the online secure platform REDCAP and securely housed at the Betsy Lehman Center. The data will be used in aggregate for public health and quality improvement purposes. PNQIN will offer consultation to participating hospitals to verify the LOCATe® findings and support efforts to provide risk-appropriate maternal care. Note: The CDC has data from over 700 facilities. In looking at self-assessed levels of maternal care, the majority of facilities self-assessed higher than what LOCATe® determined.
---
Videos from LoMC Webinars
---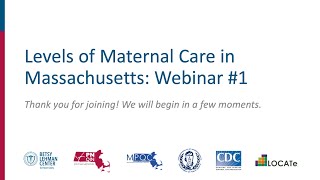 Webinar #1: February 9th, 2021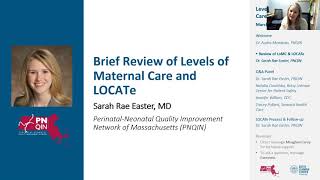 Webinar #2: March 2nd, 2021
---
What are the levels of maternal care?
---
Accredited Birth Center
Care for low-risk patients with uncomplicated pregnancies and an anticipated uncomplicated birth.
Level I (Basic Care)
Care of people with low- to moderate-risk pregnancies with the ability to detect, stabilize, and initiate management of unanticipated maternal-fetal or neonatal problems until the patient can be transferred to a facility for specialty maternal care.
Level II (Specialty Care)
Level I facility plus care of appropriate moderate- to high-risk antepartum, intrapartum, or postpartum conditions.
Level III (Subspecialty Care)
Level II facility plus care of more complex maternal medical conditions, obstetric complications, and fetal conditions.
Level IV (Regional Perinatal Health Care Centers
Level III facility plus on-site medical and surgical care of the most complex maternal conditions and critically ill pregnant people and fetuses.
---
What is the LOCATe® timeline?
---
February 9th, 2021: PNQIN LoMC Webinar #1 February 16th, 2021: Distribution of LOCATe® survey link and introductory letter March 2nd, 2021: PNQIN LoMC Webinar #2 March 31st, 2021: LOCATe® survey closes April 2021 (date TBD): PNQIN LoMC Webinar #3 Ongoing for remainder of 2021: Optional site visits (virtual for now) between hospital teams and PNQIN to review and strategize around LOCATe® results
---
Questions from Participating Hospitals
---
Can we get a list of the questions outside the web survey? I would like to collect all the information rather going page by page online. If you click the survey link, on the first page, you can download a pdf to review all of the questions on paper. I don't have all the data that you are looking for. How should I enter missing data? The CDC says that if there are things you don't know or can't get then entering 99999 in that field is the preferred approach. This will distinguish missing data from 0s and not delay submission. We don't routinely collect most of the data requested in the survey, for example transfusions with 4 units of blood. Also, our hospital collects data in disparate information systems. It could take months to obtain all the requested data. Do you want us to leave sections blank? The CDC asks that the surveys be completed if there are missing results [see question above]. Some hospitals have found it helpful to download the tool on paper and fill it out, then enter the data online. The downside of this approach is you may answer "extra" questions because of the skip patterns and branching logic in the survey. Another suggestion was to ask colleagues for help with the parts you don't know in terms of available services (e.g. NICU for pediatrics questions, radiology for imaging services, etc.). This turned out to be very helpful and sped up the data collection process. What is the measure of time for the data (calendar year, fiscal year)? The survey asks about time period for data collection so whatever you pick should be fine. Use the time period that is most up to date but with all data elements available. One hospital said that they used the calendar year because it was easiest. Has there been any thought around managing inconsistent visitor policies across hospitals? For example, if a patient is working with a doula at a lower level of care, what are the implications if a patient is transferred to a hospital that is not allowing doulas? That's a great question and exactly the kind of issue that we are hoping to address through this type of collaborative initiative. This would be the type of information we could learn from the virtual consultation so that the priorities of a care network are aligned. What do the terms "physically present at all times" and "readily available at all times" mean? From ACOG/SMFM OCC (2019), the term "physically present at all times" means the specified person should be on-site in the location where perinatal care is provided, 24 hours a day, 7 days a week. The term "readily available at all times" means the specified person should be available 24 hours a day, 7 days a week, for consultation and assistance, and able to be physically present on-site within a time frame that incorporates maternal and fetal or neonatal risks and benefits with the provision of care. In our experience the clarification we most need to make is all days BUT weekends does not count as 24/7. Is there any work to break down "other" from the graph depicting disparities in severe maternal morbidity by race/ethnicity? The numbers for certain race/ethnicity categories are very small and do not always allow further break down of these groups. Our suppression rule is less than five and most of these are below five. What type of questions have you received about the use of the survey and how are you including hospitals/stakeholders in the assessment of maternal levels of care once the surveys have been analyzed/discussed? Questions about the use of the LOCATe survey from PNQIN Levels of Maternal Care Task Force stakeholders have guided the implementation and access of this project, including how the results will be stored, analyzed, and distributed. Our hope is that hospitals and stakeholders are willing to engage in the follow-up site visit portion of this initiative in order to confirm their results and discuss strategies for improving care for your unique patient population using the resources available to you. PNQIN is committed to working collaboratively and honestly with your hospital to accomplish your care goals. Have you included behavioral health and MAT resources in the Levels of Care? Behavioral health staffing is asked on the survey but there are no specific questions related to MAT. This survey is more focused on in-hospital risk/preparedness. In an effort to sell this to executives, do you see LOCATe as an opportunity to prepare an organization for the Joint Commission? The Joint Commission (TJC) is aware of LOCATe and how it was used to assist ACOG/SMFM in their pilot verification program, but we do not know if or how facilities may have used the LOCATe information as part of TJC processes. A key consideration for LOCATe is finding the right balance between respondent burden and information to capture, beyond that needed to provide an assessment, to also facilitate stakeholder conversations related to QI. In LOCATe, you see what has been tested and proven useful balanced against respondent time, and not the many other questions that were found to not be as useful. How does LOCATe support or work with the newer guidelines from AWHONN and ACOG regarding QBL and BP management? We will look at the two guidelines you mention for consideration in future versions; such as "Does your facility have a protocol for the quantification of blood loss at every delivery?" or "Do you have an order set for first line management of severe intrapartum or postpartum hypertension?" We are always open to suggestions! Is there a definition of "liveborn" infants? Is this any infant born alive? Or is there a gestational age cut-off? There is not an age (or birthweight) restriction here, and it is any infant born alive, though it is appropriate to report within viability (e.g. >20weeks). Is there a definition of "newborn death"? Deaths during the delivery admission. Is there a definition of "high risk newborn"? Is this just NICU newborns who are transferred? 'High risk' is used in a generic sense, in that it will have a different meaning for different levels of care. NICU newborns transferred is a good approach for Level III and IV. For Level I and II which do not have a NICU, one could use 'care required necessitated transfer to a hospital with a NICU'. In other words, the transfer suggest 'high risk' relative to the facilities capability. Regarding VLBW (Very Low Birth Weight), our documents state infants <1500g, but our analysts say most NICU stats use the VON (Vermont Oxford Network) definition, < 30 week and/or <1500g. How can we ensure we're consistent with the rest of the state? VLBW is based on birthweight (independent of gestational age). For VPT (<32 weeks), gestational age lower limit is appropriate (20-24 weeks). It is expected that variation within that would not have much impact on reporting <32 weeks.
---
---
Anna Jaques Hospital

Baystate Franklin Medical Center

Baystate Medical Center

Berkshire Medical Center

Beth Israel Deaconess Hospital-Plymouth

Beth Israel Deaconess Medical Center

Beverly Hospital

Boston Medical Center

Brigham and Women's Hospital

Cambridge Health Alliance

Cape Cod Hospital

Charlton Memorial Hospital

Cooley Dickinson Hospital

Emerson Hospital

Fairview Hospital

Good Samaritan Medical Center

Heywood Hospital

Holy Family Hospital

Lawrence General Hospital

Lowell General Hospital
21. Martha's Vineyard Hospital
22. Massachusetts General Hospital
23. MelroseWakefield Hospital
24. Mercy Medical Center
25. MetroWest Medical Center
26. Milford Regional Medical Center
27. Nantucket Cottage Hospital
28. Newton Wellesley Hospital
29. North Shore Medical Center
30. Saint Elizabeth's Medical Center
31. Signature Healthcare Brockton Hospital
32. South Shore Hospital
33. St. Vincent Hospital
34. St. Luke's Hospital
35. Sturdy Memorial Hospital
36. Tufts Medical Center
37. UMass Memorial HealthCare
38. UMass Memorial HealthAlliance-Clinton Hospital